About us
Our cremation urns are created by a self-taught expressive artist, who has been sculpting for more than 40 years. The urns are created through his innermost feelings. All urns are sculpted by hand, which is why each urn is its own artwork, unique in size, shape and colour.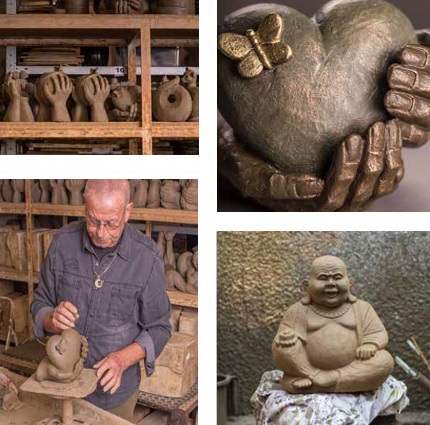 Why urns made from ceramic clay?
Clay is one of the oldest natural building materials known to man. It symbolises a connection with Earth, therefore, the use of clay connects us back to the source of life, the soil, which is a dignified resting place for the ashes of our loved ones.

After the urns are sculpted they are dried and then fired. After the drying and firing process we apply a bronze finish to the urn, a technique specific to our artist. The bronze finish gives the urns that special finishing touch, creating a contemporary and even more unique appearance. The bronze finish also makes the urns suitable for either indoor or outdoor positioning.